September 29th – October 28th
Playing With a Shadow ... an exhibition exploring childhood and memory
Marianne Raye, Alma Alex, and Aleksandras Aleksejevas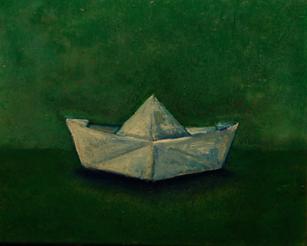 n a play of light an object can leave multiple shadows; multiple impressions, countless portrayals of itself. In parallel, memories shift and change with time, regularly altering one's perceptions of places, people, events past ... both shadow and memory are our constant companions. Childhood experiences have a long lasting effect on people's future lives, and for many artists the memory of childhood often acts as a source of inspiration, as seen here in this evocative exhibition of painting, photography and sculpture by three very different art practitioners from Russia, and Lithuania.
September 11th – September 24th
The Art of Identity ...
London teenagers from across five world religions compete for a new art prize
Self-portrait in England Shirt, 2011
Growing out of a day that the Archbishop of Canterbury spent at London Inter Faith Centre, with students and teachers from Christian, Hindu, Jewish, Muslim and Sikh schools, the Art of Identity project encourages young people to express something of the complexity of the different parts of themselves – with faith being one of the significant components.
The young artists in the exhibition explore 'identity' in a variety of ways. Some work implicitly through aspects of cultural heritage, for example one paints an urban landscape of the sub-continent, whilst another juxtaposes an England football strip with an Indian flag. Other artists explicitly rework traditional religious iconography.
The judging panel, all of whom have significant experience in working with young people to develop their interest and skill in art, includes noted British artist Ben Johnson (www.benjohnsonartist.com) and London dealer Sarah Myerscough, of Sarah Myerscough Fine Art, Mayfair (www.sarahmyerscough.com).
The artists participating in the first year of the Art of Identity are from a variety of schools, including, alphabetically, Bishop Ramsey Church of England School, Brondesbury College for Boys, Douay Martyrs Roman Catholic School, Guru Nanak School, Hasmonean Schools, Islamia Girls School, Swaminrayan School, Twyford Church of England Secondary School.
For more information about the project or The London Inter Faith Centre please contact
Fergus Capie, Project Director fergus.capie@londoninterfaith.org.uk
Joseph Voelker, Project Administrator info@londoninterfaith.org.uk
The project is supported by Cass Art London, London's leading supplier of art materials, with generous prizes for the first of what we hope will become an annual competition.